THREE SEED All Natural Bath and Body Products
Get-Ready,Get-Set,Let-G0 said...
I would like to try the grape seed enriched conditioning hair shampoo bar.

Nancy's Appetizers
Caroline said...
i want to try the mini quiches!

Curious George Soundtrack
Heather said...
We love all the fun adventures he goes on!


EMAIL ME BY TUESDAY WITH YOUR ADDRESS :)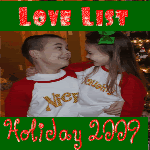 We would love for you to link to our Love List :)
Display our Love List button on your blog and receive an extry entry in ALL of our giveaways!
Just leave a comment on EACH giveaway saying you have our Love List Button!!

CURRENT GIVEAWAYS:
•
Dollly Parton Box Set
(Ends Dec. 26th)
•
Halls and Oates Box Set
(Ends Dec. 26th)
•
AC/DC Box Set
(Ends Dec. 26th)
•
Johnny Cash Box Set
(Ends Dec. 27th
•
Phil Spector CD
(Ends Dec. 27th)
•
YCMT E-Books
(Ends Dec. 27th)
•
Miles Davis CD
(Ends Dec. 27th)
•
Yo-Yo Ma CD
(Ends Dec. 28th)
•
Josh Bell CD
(Ends Dec. 28th)
•
Carnation Evaporated Milk
(Ends Dec. 28th)
•
Cookie Cutters
(Ends Dec. 29th)
•
UL Holidays Essential Prize Package
(Ends Dec. 30th)
•
Romper (Two Winners)
~ (Ends Dec. 31st)
•
ID ME Labels
(Ends Jan. 1st)
•
Cascade ActionPacs
(Ends Jan. 1st)
•
100 Postcards
(Ends Jan. 3rd)