What a great idea!! Check out The Laughs Will Go On for this giveaway!!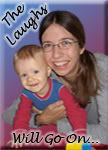 What are are straplettes? They are only for nursing mommies!
They are little pieces of fabric with a cute little charm on each one and you simply velcro them onto the side of your nursing bra that you will be nursing from next and switch it back and forth accordingly.